Accounting Training Programs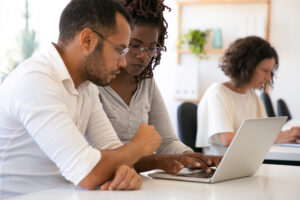 Accounting is the fundamental backbone of sound businesses.  Trained bookkeepers help to ensure the accounting processes are followed and can help businesses to achieve financial viability through sound fiscal management.  In addition, bookkeepers trained in day-to-day accounting principles can help to reduce corruption and ensure there are competent accountants available to businesses on the rapidly growing African continent. 
The positions that are created through this endeavor will help to stimulate the huge potential economic growth of Sub-Saharan Africa through entrepreneurship and self-employment opportunities in the accounting field and support businesses of all types and sizes across the African continent.
Program Objective
Our program's objective is to train African bookkeepers in proven accounting principles to provide the foundation for economic growth.
The training program will introduce best practices in the day-to-day application of accounting for small & medium sized businesses in Africa. It will be delivered through a combination of an intensive hands-on "train-the-trainers" program to provide local instructors the confidence and competence to teach effectively and live classes to local students.
The accounting training will be offered at two levels: 
The Accounting Leadership Training Program will be held in Salt Lake City, Utah, the headquarters of Universal Accounting Center.
The

Local Certified Bookkeeper Training Program

will be at the partner university premises in respective countries.